Recognizing the co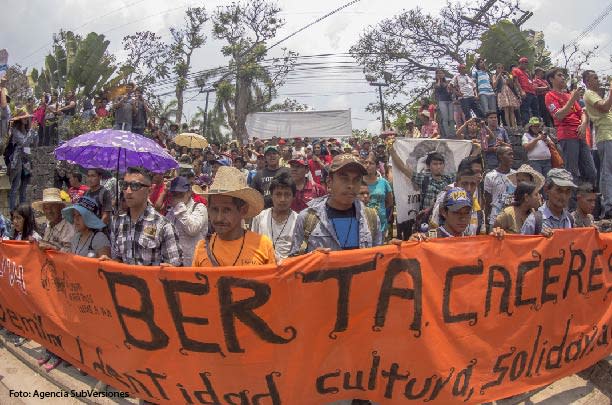 ntinued repression and aggressions faced by the
Consejo Cívico de Organizaciones Populares e Indígenas de Honduras (COPINH)
as executed by the Honduran government, national and transnational corporations, we launch this campaign , with the support of COMPPA, in order to strengthen our communications.
"Communication is a weapon for creating and capacity building, it allows us the range and diversity in order to create new appropriate things for our reality. For example, the community radios reach many people that do not know how to read and write, making the radio essential. For that reason we continue to work to strengthen this process, which is vital for the process of political organizing for COPINH"
Berta Cáceres, General Coordinator of COPINH, murdered on March 2, 2016.
Our first line of defense of mother earth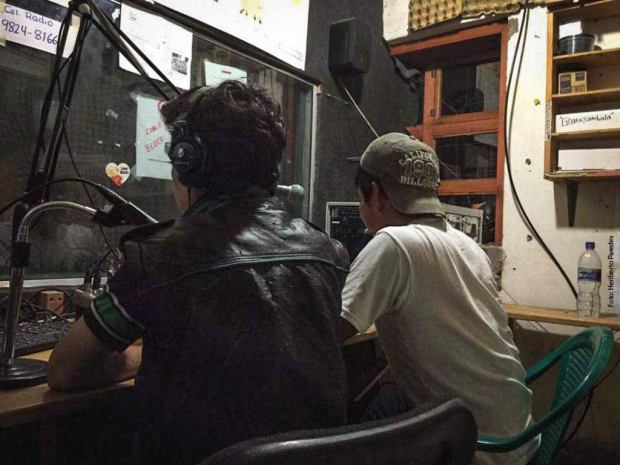 and our rights as indigenous people is THE WORD. Through COPINH radios we inform, multiply, organized and educate people in order to continue the defense of nature and rights of first nations peoples. By demanding our right to freedom of expression and the right of access to and the production of information we defend life against the destruction and threats we receive from economic projects and the politics of displacement. For that reason, we continue to struggle and strengthen our word and our voices.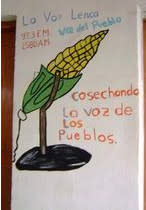 COPINH has one AM and four FM radio stations that are part of the Mesoamerican Network of Community, Indigenous, Garifuna and Feminist Radios in Honduras:
- La Voz Lenca FM
- La Voz Lenca AM
- Radio la Voz del Gualcarque FM
- Radio la Voz de Opalaca
However, it has been over almost 13 years since the first radio was established. Now it is necessary to begin an intensive process of maintenance, improvement, and expansion of the equipment while reinforcing our capacity and production quality in order to continue providing information and breaking the media barriers.
How will funds from this campaign be used?
Funds will be used for:
Maintaining and improving the existing radio infrastructure and equipment.
Begin two new radios.
Capacity building for COPINH community communicators.
Strengthen connections and mutual aid between the radios that form the Mesoamerican Network of Community, Indigenous, Garifuna and Feminist Radios in Honduras.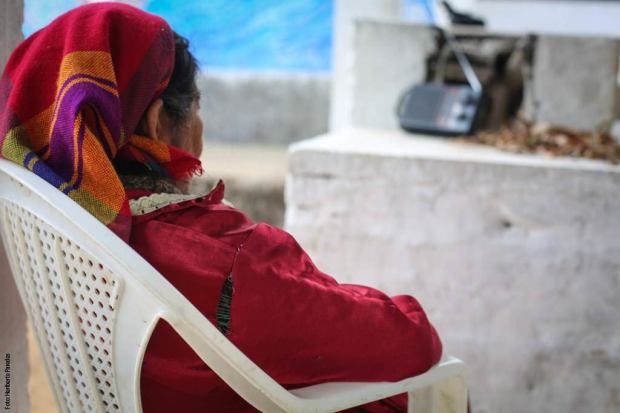 For all of these reasons we ask that you support defending mother earth in all of the Lenca territories and the freedom of expression by distributing this campaign and by making a donation (the amount is not important, rather that each person participates according to their ability) so that the COPINH community radios may strengthen their voice in Lenca territory.
Who are COPINH:
The Civic Council of Popular and Indigenous Organizations of Honduras (COPINH) is an Indigenous Lenca organization made up of 200 Lenca communities in the western Honduran states of Intibuca, Lempira, La Paz, and Santa Barbara. COPINH was born in 1993 when the Indigenous and popular movements in the Honduran state of Intibuca came together to stop logging and advance popular struggles. Today, COPINH encompasses 4 states in western Honduras and struggles for the rights of the Lenca people, including environmental, cultural, economic, social, health, education, and Indigenous rights. COPINH defends the Lenca territory and our natural resources as part of our Lenca cosmovision of respect for Mother Earth.
For over 20 years, the Lenca people organized in COPINH have defended our communities and natural resources from logging, dams, mining projects, and other megaproyects that would destroy our way of life and environment. We have stopped at least 50 logging projects that would have deforested our land and forests and 10 hydroelectric dams that threatened Lenca communities, including the huge Tigre Dam project on the border of Honduras and El Salvador. Together with other Indigenous organizations we successfully pressured that the Honduran government to ratify ILO Convention 169 on the Rights of Indigenous People, which includes the right to free, prior, and informed consultation of Indigenous communities about projects that affect us. COPINH has also successfully fought for the creation and funding of health centers and schools in Lenca communities.
COMPPA (Popular Communicators for Autonomy) is a collective that works with over a dozen grassroots organizations across Mesoamerica, mainly in Mexico, Guatemala and Honduras. For more then ten years we've dedicated ourselves to working alongside popular and indigenous organizations to build skills that strengthen their basic human right to communication, including the right to freedom of expression, freedom of information, and the rights of women and indigenous peoples to have access to their own media.
At COMPPA, we help strengthen grassroots communities through the use of popular communication by facilitating the sharing of experiences among the organizations with which we work and providing support through equipment and training in radio, video, and internet.
---------------------------------------------Español---------------------------------------------
APOYA LAS RADIOS COMUNITARIAS DEL COPINH,
¡AMPLIFIQUEMOS NUESTRAS VOCES!
"La comunicación es un arma para la formación y capacitación, nos permite la amplitud y diversidad para crear nuevas cosas adecuadas a nuestra realidad, por ejemplo, con las radios comunitarias, pues muchísima gente de nuestra región no sabe leer ni escribir y la radio es esencial. Por ello seguimos en el esfuerzo de fortalecer este eje, que es vital en el proceso político organizativo del COPINH"
Berta Cáceres, Coordinadora General del COPINH, asesinada el 2 de marzo 2016
Nuestra primera línea de defensa de la madre tierra y nuestros derechos como pueblo indígena es LA PALABRA. A través de las Radios del COPINH informamos, multiplicamos, organizamos y sensibilizamos a la población para continuar y sumar esfuerzos en la defensa del medio ambiente y de los derechos territoriales de los pueblos originarios. Ejerciendo nuestro derecho a la libertad de expresión y el derecho al acceso y la producción de información, defendemos la vida y la madre tierra en contra de la destrucción y las amenazas por parte de intereses económicos y las políticas de despojo. Por ello, seguimos levantando y fortaleciendo nuestra palabra y voces.
Actualmente, en el COPINH contamos con 4 radios en FM y una en AM que forman parte de la Red Mesoamericana de Radios Comunitarias, Indígenas, Garífunas y Feministas de Honduras:
- La Voz Lenca FM
- La Voz Lenca AM
- Radio la Voz del Gualcarque FM
- Radio la Voz de Opalaca
Sin embargo, tras casi 13 años que se instaló la primera radio, ahora es necesario realizar un proceso intensivo de mantenimiento, mejoramiento y ampliación de las instalaciones además de reforzar nuestra capacidad y calidad de producción para así seguir informando y rompiendo el cerco mediático por la defensa de la madre tierra.
¿Cómo se usará lo recaudado en esta campaña?
El apoyo recaudado se utilizará para:
Mantener y mejorar la infraestructura y equipos existentes en las radios.
Levantar dos nuevas radios.
Capacitación para comunicadorxs comunitarixs del COPINH.
Fortalecer los vínculos y el apoyo mutuo entre las radios que conforman la Red Mesoamericana de Radios Comunitarias, Indígenas, Garífunas y Feministas.
Por todo ello te invitamos a apoyar la defensa de la madre tierra en los territorios lencas y a la libertad de expresión difundiendo esta campaña y/o haciendo un aporte (no importa la cantidad, cada quién con sus posibilidades) para que las radios comunitarias del COPINH fortalezcan su voz en la defensa del territorio Lenca.
COMPPA (Comunicador@s Populares Por La Autonomía) es un colectivo que trabaja con una docena de organizaciones de base en Mesoamérica, principalmente en México, Guatemala y Honduras. Desde hace mas de 10 años nos dedicamos a acompañar a organizaciones indígenas y populares en la formación, capacitación y apoyo técnico para el ejercicio y la construcción de sus derechos a la comunicación como derechos humanos esenciales: derecho a la libertad de expresión, derecho a la información, derecho a la comunicación de los pueblos indígenas y derecho a la comunicación de las mujeres indígenas.
En COMPPA apoyamos los esfuerzos de lucha de las comunidades a través de la comunicación popular, propiciando intercambios entre las diferentes organizaciones con las que trabaja, apoyo con equipo y capacitación en producción de radio, video e internet.

--------------------------------------------Deutsch----------------------------------------------
UNTERSTÜTZE DIE KOMUNITÄREN RADIOSENDER DES COPINH
VERSTÄRKEN WIR UNSERE STIMMEN!
"Die Kommunikation ist eine Waffe der Bildung und Schulung. Sie erlaubt uns den Spielraum und die Vielfältigkeit um neue, an unsere Realität angepasste Dinge zu erschaffen. Die komunitären Radios zum Beispiel sind essentiell, da viele Leute in unserer Region nicht lesen und schreiben können. Darum stärken wir weiterhin diesen Prozess, da er lebenswichtig ist für den politischen Organisationsprozess des COPINH."
Berta Cáceres, Generalkoordinatorin des COPINH, ermordet am 2. März 2016
Unsere erste Verteidigungslinie der Mutter Erde und unserer Rechte als Indigene ist DAS WORT. Durch die Radios des COPINH informieren, vervielfältigen, organisieren und sensibilisieren wir die Bevölkerung, um weiterhin die Umwelt und die indigenen Rechte zu verteidigen und die Anstrengungen dafür zu vereinigen. Durch die Ausübung unseres Rechtes auf Meinungs- und Informationsfreiheit verteidigen wir das Leben gegen die Zerstörung und Bedrohungen durch ökonomische Interessen und der räuberischen Politik.
Deshalb erheben und verstärken wir unser Wort und unsere Stimmen.
Aktuell hat der COPINH 4 Radiosender in FM und einen Radiosender in AM die Teil des Mittelamerikanischen Netzwerkes komunitärer, indigene, garifuna und feministischer Radios sind.
- La Voz Lenca FM
- La Voz Lenca AM
- Radio la Voz del Gualcarque FM
- Radio la Voz de Opalaca
Um weiterhin informieren zu können und um die mediale Ausgrenzung zu durchbrechen, sind nun, nach fast 13 Jahren seit der Installation des ersten Radiosenders, ausgiebige Wartungsarbeiten und die Erneuerung und der Ausbau der Installationen notwendig. Zudem ist die Erweiterung unserer Kapazitäten und Kenntnisse und die Verbesserung der Qualität unserer Produktionen geplant.
Das gesammelte Geld wird eingesetzt fuer:
Wartung und Erneuerung der Installation und der Geräte in den Radios
Der Aufbau von zwei neuen Radiosendern
Weiterbildung von Komunitären Berichterstatter_innen des COPINH
Der Ausbau der Zusammenarbeit und der gegenseitigen Hilfe zwischen den komunitären Radiosendern des Mesoamerikanischen Netzwerkes der komunitären, indigenen, garifuna und feministischen Radios
Deshalb laden wir dich ein, die Verteidigung der Mutter Erde und die Meinungsfreiheit zu unterstützen und diese Kampagne weiter zu verbreiten und/oder einen Beitrag zu leisten, damit die komunitären Radios des COPINH ihre Stimmen verstärken.
(Die Größe des Beitrags ist nicht wichtig, jeder nach seinen Möglichkeiten)
--------------------------------------------Francais----------------------------------------------
SOUTENONS LES RADIOS COMMUNAUTAIRES DU COPINH ! AMPLIFIONS NOS VOIX !
"La communication est une arme pour la formation et l'apprentissage qui nous offre de l'amplitude et de la diversité afin de créer de nouvelles choses adaptées à notre réalité. C'est le cas des radios communautaires, puisque de très nombreux habitants de notre région ne savent ni lire, ni écrire, et que la radio est un média essentiel pour eux. C'est pourquoi nous poursuivons l'effort de développer ce secteur vital du processus politique et organisationnel du COPINH. " - Berta Caceres, coordinatrice générale du COPINH, assassinée le 2 mars 2016
Notre première arme dans la défense de la Terre Mère et de nos droits en tant qu'indigènes est LA PAROLE. À travers les radios du COPINH, nous informons, multiplions, organisons et sensibilisons le public pour continuer à rassembler les efforts de chacun dans la défense de l'environnement et des droits territoriaux des peuples indigènes. En exerçant notre liberté d'expression et notre droit à l'accès à et à la production de l'information, nous défendons la vie et la Terre Mère de la destruction et des menaces de pillage que les puissances économiques et politiques font peser sur nous. C'est pourquoi nous continuons à lever et amplifier notre parole et nos voix.
Actuellement, le COPINH dispose de quatre radios émettant sur la bande FM et une sur la bande AM. Elles font partie du Réseau mesoaméricain de radios communautaires, indigènes, garifunas et féministes du Honduras :
- La Voz Lenca FM
- La Voz Lenca AM
- Radio Guarajambala FM
- Radio la Voz del Gualcarque FM
- Radio la Voz de Opalaca
Cependant, près de treize ans après l'installation de la première radio, il est aujourd'hui nécessaire de réaliser des travaux intensifs de maintenance, d'amélioration et d'agrandissement de nos installations. Mais aussi de renforcer notre capacité et notre qualité de production pour continuer à rompre le cercle médiatique au service de la défense de la Terre Mère.
Comment l'argent collecté durant la campagne sera-t-il utilisé ?
Les dons serviront à :
- Mantenir et améliorer l'infrastructure et les équipements existants dans les radios; - Monter deux nouvelles radios;
- Former des communicants communautaires du COPINH;
- Renforcer les liens et le soutien mutuel entre les radios qui composent le Réseau mesoaméricain de radios communautaires, indigènes, garifunas et féministes du Honduras.
Pour toutes ces raisons, nous vous invitons à soutenir la défense de la Terre Mère dans les territoires lencas et la liberté d'expression en diffusant cette campagne et/ou en apportant votre contribution (peu importe son montant, chacun donnant selon ses moyens), pour que les radios communautaires du COPINH renforcent leur voix au service de la défense du territoire lenca.
--------------------------------------------Italiano-----------------------------------------------
SUPPORTA LE RADIO COMUNITARIE DEL COPINH
AMPLIFICHIAMO LE NOSTRE VOCI!
"La comunicazione è un'arma che permette la nostra formazione, permette di aprirci e diversificarci per creare nuovi progetti adeguati alla nostra realtà, ad esempio, con le radio comunitarie. Visto che tantissime persone della nostra regione non sanno leggere e scrivere, la radio è essenziale. Per questo continuiamo a lavorare per rafforzare questo settore, che è vitale nel processo politico e organizzativo del COPINH".
Berta Cáceres, coordinatrice generale del COPINH, uccisa il 2 marzo 2016
La prima arma cha abbiamo in difesa della madre terra e dei nostri diritti come popolo indigeno è LA PAROLA. Attraverso le Radio del COPINH informiamo, moltiplichiamo, organizziamo e sensibilizziamo la popolazione per potenziare lo sforzo in difesa dell'ambiente e dei diritti territoriali dei popoli originari.
Esercitando il nostro diritto alla libertà di espressione e all'accesso e produzione di informazione, difendiamo la vita e la madre terra contro la distruzione e le minacce causate dagli interessi economici e dalle politiche di spoliazione.
Per questo, continuiamo ad alzare e rafforzare le nostre parole e le nostre voci.
Attualmente, nel COPINH possiamo contare su 4 radio in FM e una in AM che formano parte della Rete Mesoamericana delle Radio Comunitarie, Indigene, Garifuna e Femministe dell'Honduras:
- La Voz Lenca FM
- La Voz Lenca AM
- Radio Guarajambala FM
- Radio la Voz del Gualcarque FM
- Radio la Voz de Opalaca
Ora, a quasi 13 anni dall'installazione della prima radio, è necessario realizzare un processo intensivo di manutenzione, miglioramento e ampliamento delle installazioni, oltre a rinforzare la nostra capacità e qualità di produzione per continuare ad informare in difesa della madre terra.
Come verrà utilizzato il denaro raccolto con questa campagna?
Il denaro raccolto verrà utilizzato per:
· Mantenere e migliorare l'infrastruttura e apparecchiature presenti nelle radio
· Creare due radio nuove
· Formare comunicatrici e comunicatori comunitari del COPINH
· Rinforzare le relazioni e l'appoggio reciproco fra le radio che fanno parte della Rete Mesoamericana delle Radio Comunitarie, Indigene, Garifuna e Femministe dell'Honduras
Per questo ti invitiamo ad appoggiare la difesa della madre terra nei territori indigeni lenca e la libertà di espressione diffondendo questa campagna e/o facendo una donazione (anche minima, ognuno secondo le proprie possibilità) perché le radio comunitarie del COPINH rafforzino la loro voce a difesa del territorio lenca.